Nursery
Our large nursery is available for children through the age of 4.  A Noah's ark mural brightens the walls of our large and colorful Church Nursery. There are many toys, books, blocks and child sized tables and chairs to help the children feel comfortable and safe.   Only parents, care givers and infants are permitted in the room during the nursery hours.   We strive to keep the area clean and well maintained to make for a pleasant experience for all.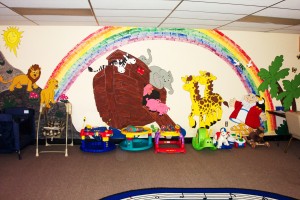 The nursery is right across from the sanctuary on the 2nd floor.
Certified leaders with state clearances.
Sign-in/sign-out security.
Sundays 9:30 thru noon.
During Worship (10:45 am)
A short children's message is delivered during service after which is Junior Church.
Junior Church is for children age 5 through 5th grade.
Youth Groups
Jr. Youth Group:  Grades 1-5, no regular meetings.
Sr. Youth Group:  Grades 6-12, meets Sundays 6 – 7:30 pm in the youth room on the 3rd floor, except over Summer break.
More Opportunities
Study Buddies:  1 on 1 tutoring with students from Hillside Elementary School.
Camp YoliJwa week long summer camps for grades 4 thru 12.
Wilderness camps for grades 7-12.
Weekend Winter Retreats.
Children's Choir/Youth Praise team.
Vacation Bible School.