Live Sunday services are being suspended due to the pandemic. Please monitor the web site to stay abreast of updates with regard to our services.
In the meantime virtual services will be streamed on Sundays at 10:45 am.
Virtual Worship Experience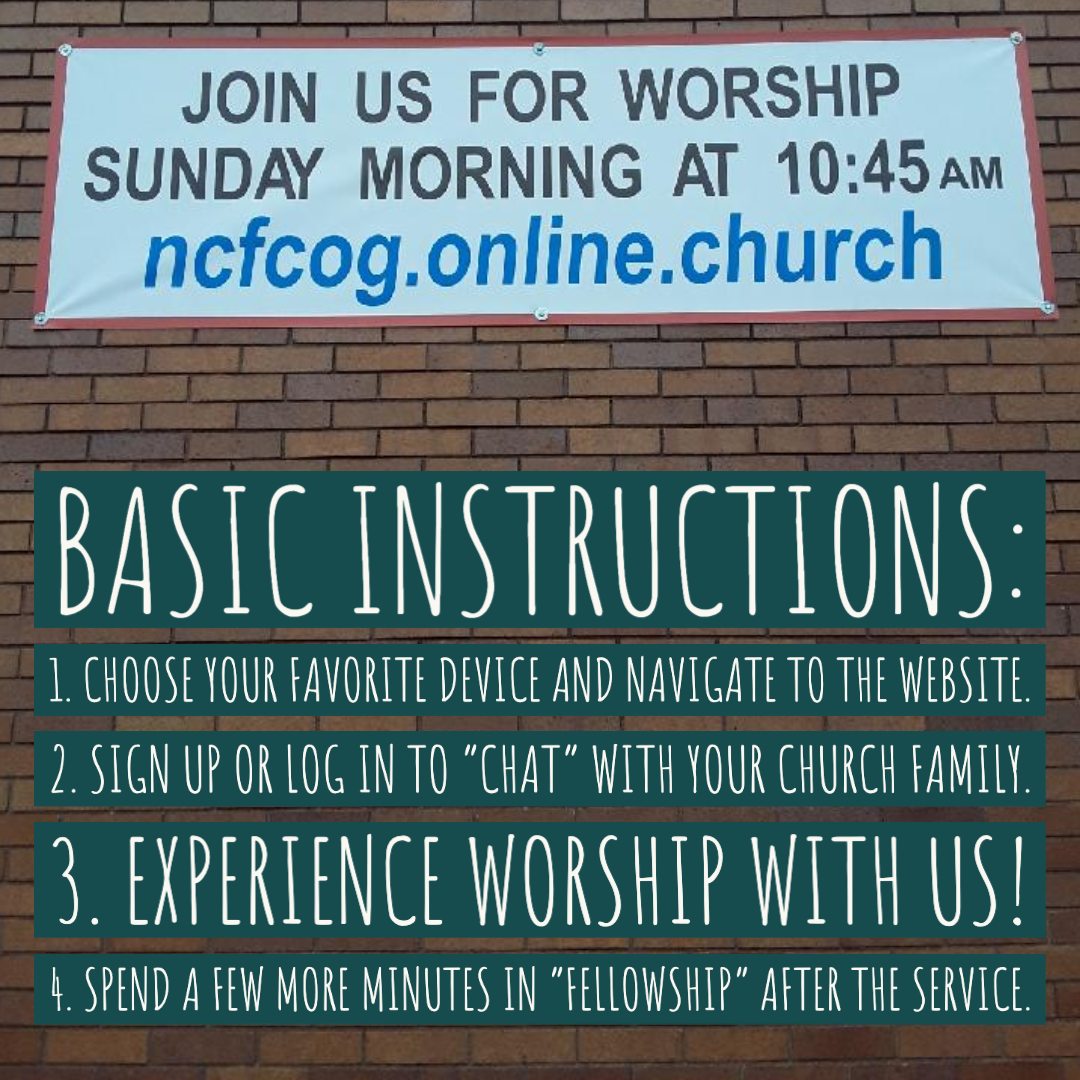 Times like this cause us to feel the loss of those things we value.
All the believers devoted themselves to the apostles' teaching, and to fellowship, and to sharing in meals (including the Lord's Supper), and to prayer.

Acts 2:42
We haven't stopped being God's Church! There are still opportunities for you to be God's servant, and even new ways to grow as Christ's Disciple. We need to think out of the box.
Ask yourself:
How can I show love to others during this unique and historic time?
What could I do differently to grow as a Child of God at this time?
I'm reading thru the plagues that God sent to a disobedient Egypt (Exodus 7 – 12). And I wonder, what if this pandemic is one of several "plagues" that God is using to get us to turn back to Him? To be clear I'm NOT saying it is. But we, even God's Church, have become too self-centered, sin tolerating, and focused on personal comfort and security. How can I and you become more like Jesus?
There are several online opportunities:
Go to https://ncfcog.online.church at 10:45 (or earlier) Sunday morning. If you go there early you will see a black screen, when the service begins it should automatically come up. This may not work if you use Internet Explorer as your browser; it seems to work with every other browser. If you want to submit prayer requests, questions or chat then you will need to create an account by clicking on the 3 small lines in the upper left corner and following the instructions. We plan to provide a link to view this service afterwards on our church facebook page and website. Be sure to Like & Follow our Facebook Page.
We have two adult Sunday school classes that will meet using phone, computer or other device. You can participate by using the internet that includes video or by call-in phone conferencing.
If you want to join "Christians Under Construction" at 9 am led by Missy/Sue send Sue Sansom your email address at suzbonjour@comcast.net .
If you'd like to join the "Followers" class at 9:45 am led by Carolyn Fieman send Carolyn your email address at carolynfieman@gmail.com.
Sue or Carolyn will email you a link and related information.
Wednesday mornings at 10 AM Ed Pickel leads a Bible study that is discussion based; 1Corinthians ch-7 this week. If you want to join send Sue Sansom your email address at suzbonjour@comcast.net.
I will continue to post short videos on our facebook page.
Please be patient with the virtual experience as it's new for everyone. Login 15 minutes early when going virtual in order to acclimate and make audio/visual adjustments to your device.
You can send prayer requests directly to me anytime at cjzahora@yahoo.com. I will send the list periodically.
If you need anything please let me, one of our elders or the church office know. We will try to help!
Feel free to invite others to our online worship service. Hopefully we'll be back together soon and healthy. I pray that God transforms us during this time so we can serve and love more like Jesus.
Virtualization Help and Troubleshooting
The online platform will be live at 10:30 on Sunday morning and will be available until 20 minutes following the service.
You will probably see a black box until the service officially begins at 10:45.
If you would like to chat with each other before, during, and after the service, you will need to sign up (or log in if you already have an account). This can be done by clicking on the 3 lines in the upper left corner of the website.
If you don't want to chat, you do not need to go through this process.
Prefer the Safari, Chrome, & Firefox web browser to Internet Explorer. Other browsers may or may not work correctly.
You may view the worship service from a mobile device, a computer, or your tv (if you have the correct technology).

The following devices may make it possible to view on your tv through "screen share" or via their web browser: Apple TV, Chromecast, Roku, Amazon Fire Stick, Amazon Fire TV, Miracast. Some smart TVs may also work.

Due to increased web traffic during COVID-19, the quality of most video streaming has been downgraded to SD. Our cameras aren't high-tech to begin with, so we're not sure how this will affect the quality of our video.
A YouTube link will be offered Sunday afternoon if you aren't able to tune in at the scheduled time.